| | |
| --- | --- |
| Posted by S.M. Carrière on November 29, 2013 at 12:30 AM | |
Good morning, Readers!
And to my American Readers, a very Happy Thanksgiving.
I am spending today at home, wrapped up in blankets and kitties because I'm under the effects of what I'm hoping is just a migraine... which has probably stemmed brom my back injury.  I slipped a couple of times yesterday morning on the way to the bus stop and tweaked my back.
At least, I'm hoping it's just a migraine and not the brief, but very unpleasant illness that has been making the rounds of late.  I don't particularly want to spend today praying to the porcelain god...
In other news, this is going to be a very busy weekend for me.  Friday night is this month's meetup (which I'm greatly looking forward to).  Saturday morning until the early afternooon, I'll be with my Kung Fu school - we have a sparring workshop.  That evening is a family event.  Luckily, I'll have a couple of hour to go home and hide any bruises I've acquired.
Then Sunday...
Sorry to interupt, but I'm tryimg to write the post, but Persephone has other ideas...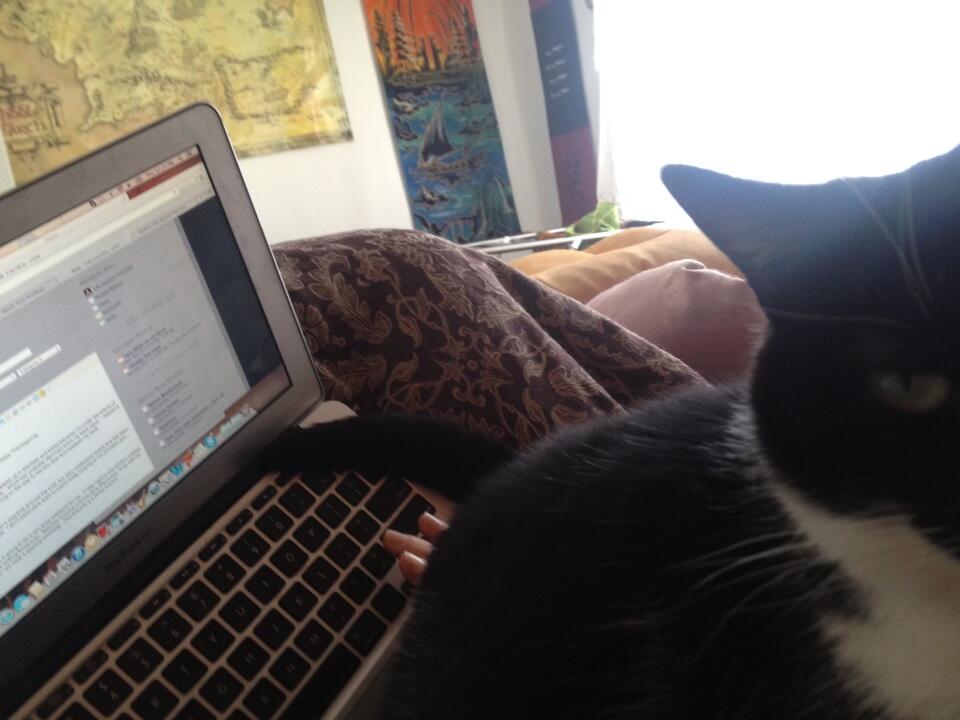 You should hear the wretch purr!
Anyway. as I was saying, Sunday I'll be giving a presentation to the Ottawa Mac Users group.  I find this laughable... because technology is not my friend...  But it should be fun, and the event organiser is awesome sauce.
Right, I'll sign off here.  Persephone is now drooling.  Have a great Thursday everyone.
Ciao!